Address
Institute of Biomaterials and Biomolecular Systems
Pfaffenwaldring 57
D-70569 Stuttgart, Germany
Anfahrt
By Car
At the highway cross "Stuttgart" take A 831 in the direction "Stadtmitte-Stuttgart". Exit at "Universität" and take a left at the first traffic light. You are now on "Universitäts-Strasse". Pfaffenwaldring is a ring road that diverts to the left twice. Take the second diversion after passing the Subway Station (S-Bahn).
By Train
S-Bahn from Main Station
If you arrive at Main Station take one of the subway lines "S-Bahn" S1, S2 or S3 to the station "Universität".
S-Bahn from Aiport:
If you arrive at the Airport, take the "S-Bahn" S2 or S3 in the direction "Main Station / Hauptbahnhof" and exit at the station "Universität".


S-Bahn station "Universität" to Building NZW II (Pfaffenwaldring 57):


At the station "Universität", take the exit at the end of the train and walk up two stairs. To the left, you see the building of the Library, to the right is the building of the Institute of Electronic Engineering (Pfaffenwaldring 47). Walk between these two buildings a little to the left. On your left, you path a subsidiary of the"Landesbank Baden-Württemberg". Walk underneath the building Pfaffenwaldring 55 to reach number 57.

In the Building NWZII:
In the building take the elevator to the 9th floor. The Secretary's Office is in room 9.560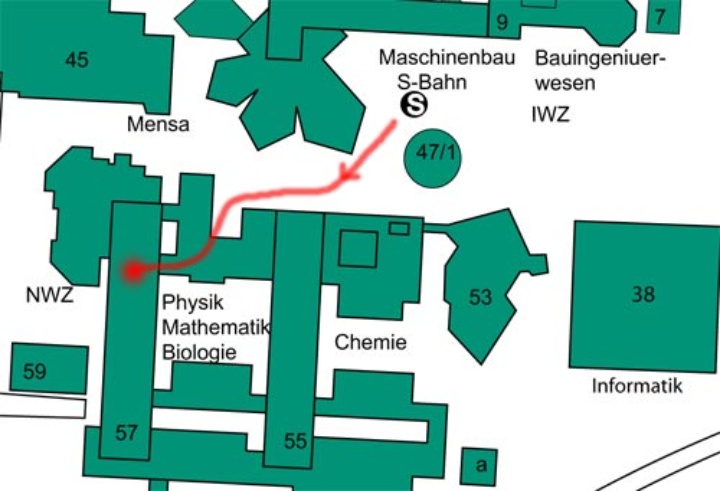 Contact
Institute of Biomaterials and Biomolecular Systems, University of Stuttgart
Pfaffenwaldring 57 , D-70569 Stuttgart, Germany